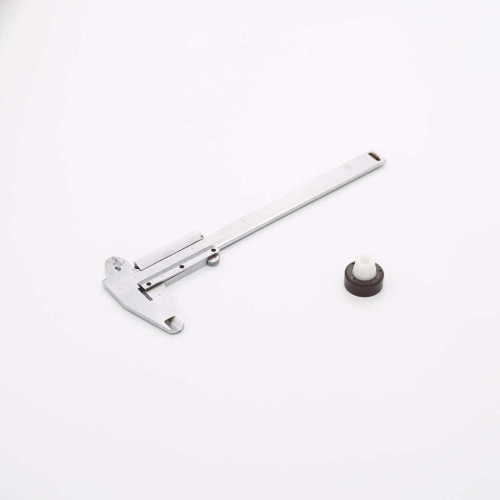 Product Description
Product Attribute
LEC magnetics has available Plastic injection molded magnets.

Injection molded magnets can be of very simple shapes or very complex. All or only part of the device may be magnetized. It is sometimes cost advantageous to make an entire part out of the magnet material and just magnetize the portion requiring magnetic output.

Magnetic powders include ferrite, neodymium-iron-boron (NdFeB), and samarium cobalt (SmCo). There are several alloy compositions available of ferrite and NdFeB providing many different magnetic properties.Polymer binders utilized include nylons 6 and 12 and PPS (polyphenylene sulfide).


Features of the Plastic injection molded magnets
1, injection of the magnetic properties of NdFeB is more better than ferrite;
2, the dimensional accuracy of injection NdFeB NdFeB better than repression;
3, injection NdFeB products suitable for complex shape;
4, injection NdFeB can be injected directly into the rotor or stator components;
5, injection of anti-corrosion performance of NdFeB;
6, injection NdFeB strength toughness;
7, injection NdFeB can be multi-polar magnetization.
The performance of the Plastic injection molded magnets.



BNI-3

Isotropy

BNI-4

Isotropy

BNI-5

Isotropy

BNI-6

Isotropy

BNI-7

Isotropy

BNI5SR

(PPS)

Isotropy

Br (mT)

350-450

400-500

450-550

500-600

550-650

450-550

Br (Gs)

3500-4500

4000-5000

4500-5500

5000-6000

5500-6500

4500-5500

Hcb(kA/m)

199-279

239-318

302-358

326-382

342-398

302-366

Hcb(kOe)

2.5-3.5

3.0-4.0

3.8-4.5

4.1-4.8

4.3-5.0

3.8-5.0

Hcj (kA/m)

398-637

557-716

636-796

636-796

636-804

875-1114

Hcj(kOe)

5.0-8.0

7.0-9.0

8.0-10.0

8.0-10.0

8.0-10.1

11-14

(BH)max (kJ/m 3)

20-28

28-36

37-44

44-52

51-59

36-44

(BH)max (MGOe)

2.5-3.5

3.5-4.5

4.5-5.5

5.5-6.5

6.5-7.5

4.5-5.5

Tw/℃

120

120

120

120

120

160
| | | | |
| --- | --- | --- | --- |
| Delivery Date: | 15~25 days | Shape: | Ring |
| Application: | Motor / Sensor | Type: | Permanent |
| Composite: | NdFeB Magnet | Brand Name: | LEC |
| Size: | Custom | Material: | Plastic Binders and NdFeB Powder |
| Tolerance: | ±0.1 mm | HS Code: | 85051190 |
| Certificate: | ISO9001:2008 | | |
Min. Order: 200 Piece/Pieces
Trade Term: FOB,CFR,CIF
Payment Terms: L/C, D/A, T/T, WU
Place of Origin: Zhejiang, China (Mainland)
Means of Transport: Ocean, Air
Production Capacity: 10,000 pcs per day
Packing: carton / pallet
Delivery Date: 15~25 days
Shape: Ring
Application: Motor / Sensor
Type: Permanent
Composite: NdFeB Magnet
Brand Name: LEC
Size: Custom
Material: Plastic Binders and NdFeB Powder
Tolerance: ±0.1 mm
HS Code: 85051190
Certificate: ISO9001:2008