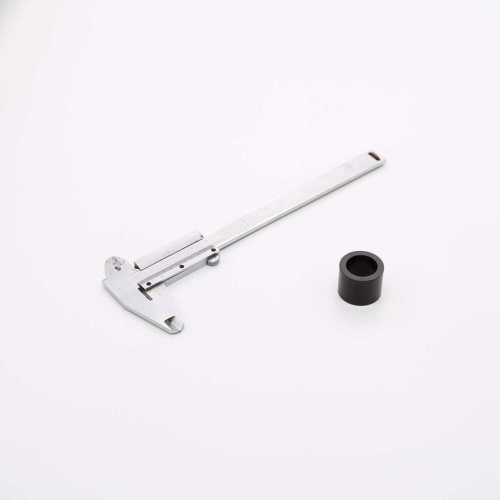 Multipole bonded neodymium ring magnets Admin Edit
Product Description
Product Attribute
LEC magnetics has available multipole bonded neodymium ring magnets.
For a more flexible alternative to sintered neodymium, consider using bonded neodymium magnets for your application. Bonded neodymium powder is used to create these magnets. Powder is melted and mixed with a polymer. Components are then pressed or extruded to create the product. Bonded Neodymium magnets can be magnetized into complex patterns with multiple poles. Though much weaker than Sintered Neodymium magnets, Bonded neodymium magnets give greater flexibility in terms of shapes that can be made. They are also lighter than Samarium Cobalt, and have a lower acceptable temperature (coercivity). Nevertheless, they offer excellent value for applications that require a smaller magnet or utilize radial rings. Bonded Neo Ring Magnet
Applications include automotive, home, power tools, as well as electronic industries.
Traditionally, multi-pole sintered Neo ring magnets were created using multiple arc magnets glued to the assembly. While spinning, it was not uncommon for the adhesive material to loosen and the magnet would dislodge itself. Also, the requirements for accuracy between all of the magnets in the ring shape required the exact same physical and magnetic properties - thus many magnets would fail because of the lack of homogeneity

The performance of the Multipole bonded neodymium ring magnets
| | | | | | | | | |
| --- | --- | --- | --- | --- | --- | --- | --- | --- |
| | BNP-3 | BNP-6 | BNP-8 | BNP-8SR | BNP-9H | BNP-10 | BNP-11 | BNP-12L |
| Br (mT) | 450-510 | 590-650 | 620-670 | 620-66 | 650-700 | 680-720 | 700-740 | 730-770 |
| Br (Gs) | 4500-5100 | 5900-6500 | 6200-6700 | 6200-6600 | 6500-4000 | 6800-7200 | 7000-7400 | 7300-7700 |
| Hcb(kA/m) | 199-263 | 302-374 | 390-454 | 405-470 | 421-484 | 413-477 | 430-493 | 366-430 |
| Hcb(kOe) | 2.5-3.3 | 3.8-4.7 | 4.9-5.7 | 5.1-5.9 | 5.3-6.1 | 5.2-6.0 | 5.4-6.2 | 4.6-5.4 |
| Hcj (kA/m) | 477-597 | 597-796 | 636-796 | 955-1114 | 915-1034 | 636-796 | 636-796 | 517-637 |
| Hcj(kOe) | 6.0-7.5 | 7.5-10.0 | 8.0-10.0 | 12.0-14.0 | 11.5-13.0 | 8.0-10.0 | 8.0-10.0 | 6.5-8.0 |
| (BH)max (kJ/m 3) | 24-32 | 44-53.6 | 60-68 | 65.6-72 | 72-80 | 76-84 | 80-88 | 84-92 |
| (BH)max (MGOe) | 3.0-4.0 | 5.5-7.0 | 8.0-9.5 | 8.2-9.0 | 9.0-10.0 | 9.5-10.5 | 10.0-11.0 | 10.5-11.5 |
| Tw/ ℃ | 120 | 120 | 120 | 160 | 160 | 120 | 120 | 110 |
| | | | |
| --- | --- | --- | --- |
| Delivery Date: | 7-15 days | Shape: | Ring / Tube |
| Application: | Motor Magnet | Type: | Permanent |
| Composite: | Rare Earth Magnet | Brand Name: | LEC |
| Material: | Plastic Binders and NdFeB Powder | Plating / Coating: | Black Epoxy |
| Grade: | BNP-6 | Tolerance: | ±0.1 mm |
| Maximum Operation Temperature: | 100~150 degree | Delivery Time: | 7-15 days |
Min. Order: 100 Piece/Pieces
Trade Term: FOB,CFR,CIF
Payment Terms: Paypal, L/C, T/T
Place of Origin: Zhejiang, China (Mainland)
Means of Transport: Ocean, Air
Production Capacity: 100,000 Pcs Per day
Packing: Cartons + Pallets
Delivery Date: 7-15 days
Shape: Ring / Tube
Application: Motor Magnet
Type: Permanent
Composite: Rare Earth Magnet
Brand Name: LEC
Material: Plastic Binders and NdFeB Powder
Plating / Coating: Black Epoxy
Grade: BNP-6
Tolerance: ±0.1 mm
Maximum Operation Temperature: 100~150 degree
Delivery Time: 7-15 days